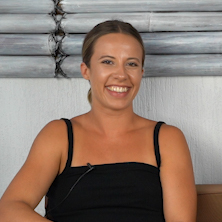 This week we chat with form World Champion Beach Sprinter & Flagger, Bree Masters! Having brought new attention to the sport through all her social media efforts and work within the field, Bree shares with us what it's like to be a professional athlete and where she sees herself after the sport. 
Here are a few of the topics we cover in our chat with Bree during our interview:
- From dancer to World Champion Beach Sprinter
- The training regime of an elite Athlete
- Putting a spotlight on her sport with social media
- What life after sport looks like for Bree
 + so much more!
If you'd like to continue following Bree's journey, just click on the link below:
Instagram: @breeemasters
YouTube: youtube.com/breemasters
Also, don't forget to tell us what you thought of this episode by leaving a star rating or review with your feedback! 
You can also view a full transcript of this episode through our website: loopapp.com.au/bree-masters-podcast-interview
If you enjoyed this episode of "In the Loop", let us know! Feel free to leave us a review or give us a rating because we want your feedback. And don't forget to subscribe so you can stay "In the Loop" every week and learn more about the business end of being an influencer. 
Website: loopapp.com.au/in-the-loop-podcast
IG: @loop.app